Much like my previous post this one is also long overdue. As may have been subtly evident from the posts that followed, moving to Israel didn't quite go to plan, partly due to being too rushed and perhaps also to some extent due to inadequate communication in terms of what my expectations were – the time of my move was an especially busy time for them as well as me. Had that not been the case things may well have worked out differently. As it happened though I was there for a total of nine days, the majority of which I spent thinking 'How long do I need to stay to not feel completely stupid for making this mistake?".
I don't think it was a mistake now though. The bright side is that because I failed fast I had burned relatively few bridges back here in the UK – the letting agents hadn't even managed to find a new tenant for my flat. Almost all of the possessions that I had sold/discarded were things I'd been meaning to re-home for a long time anyway and just not got around to – with the exception of some kitchenware which I had to replace (even some of that was still in the car park three weeks after abandoning it, and just needed a good clean!).
The best part is that the company I was relocating to work for (we are still in 'stealth mode') are happy with me working from the UK – and that is what I've been doing for 3+ months now – working on the project that I went as far as relocating for.
Since every post looks better with a picture, here's the only one that I had both the time and energy to take – the duty-free rotunda at Ben Gurion Airport: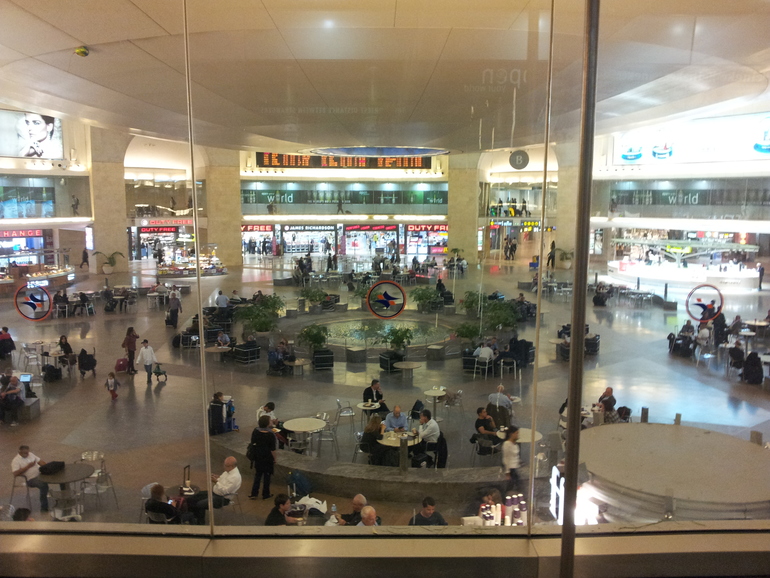 The only 'downside' to all this that I still never find as much time as I would like for cycling, but I suspect that may always be true – maybe that's just life/work! To demonstrate: Figure of Eight 21 (first ride this side of flying) was done at a horrendously slow 15.89 miles per hour – and I've done a miserable total of only ~120 miles since then. This time last year I was consistently hitting ~19 mph on the same route, with a best of 19.83 mph – so close to breaking the 20 mph barrier but full time work started just slightly too soon for me to make it.